episode 150: rebranding the postpartum experience with Alissa Alter and Anne Omland
April 25, 2021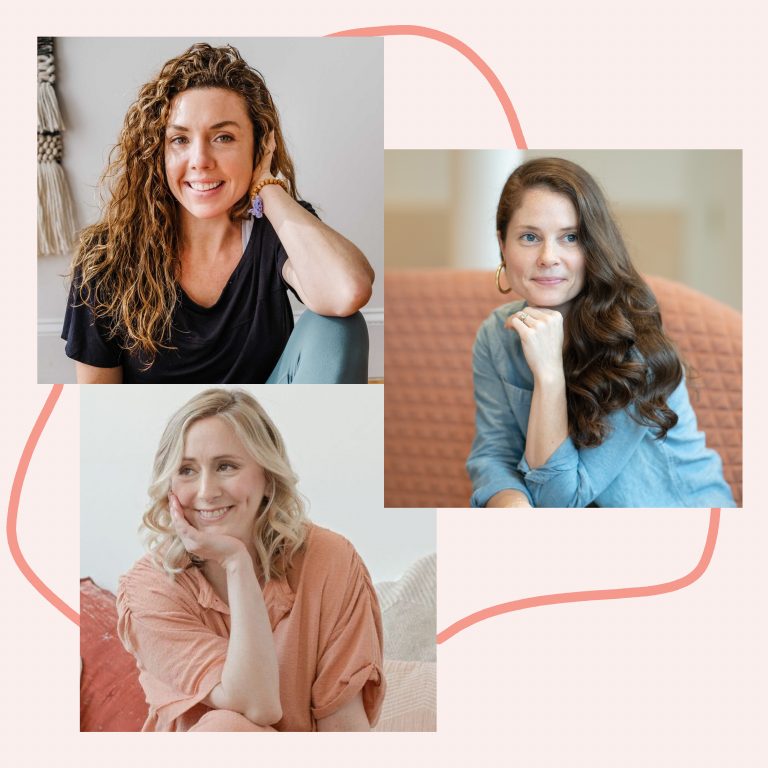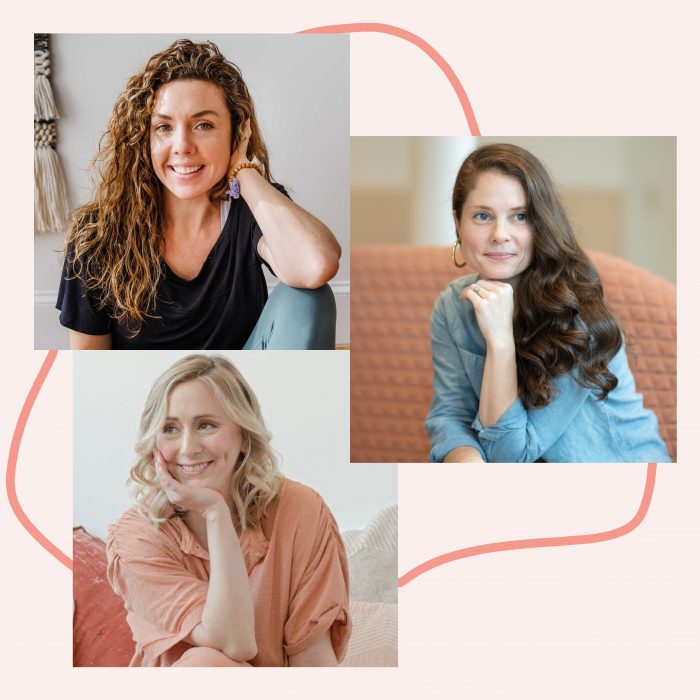 So… this episode is kind of a big deal.
We've hit the 150th episode of the show with over 220,000 downloads and counting.
I've been considering how I wanted to celebrate it for months. Should I have some super high-profile guest? Should I do it solo? Or should I do something different?
After a few weeks, the answer became clear.
I want to use this moment to let you in what's been going on over here.
I've been secretly co-creating a second business with two amazing women. Women who are not only doing really important work in the world, but who I know are soul-mate level friends.
That's Alissa Alter and Anne Omland.
Alissa is a Women's Health Expert & Motherhood Advocate, author of Unstuck: From Understudy To The Study Of Your Undercarriage, and host of the podcast Myth of Motherhood who is all about cracking open the taboo topics of pregnancy and motherhood. She uses movement, mindfulness, and good ol' education to help mamas and mamas-to-be stop suffering in silence so that pregnancy, childbirth, and postpartum can be healing and empowering stages of life.
Anne is a Yoga & Meditation Teacher, Hypnobirthing Childbirth Educator, Women's Health Coach, Doula-in-training and the founder of Mamakind, a platform where she creates personalized wellness plans that care for the whole woman on her journey to motherhood. In her former career, she was a VP at a Fortune 500 company and struggled with workaholism, and later found it challenging to become pregnant. She realized a deep disconnect between not only how our systems of care support women in their motherhood journey but also between her and her body. Six years and 3 little ones later, she's found a passion in supporting women as they look to conceive, navigate pregnancy, and as they transition into new motherhood.
As you'll hear in the episode, these two went through my Your Wellness Brand Program in 2020 to build their businesses.
I felt an instant connection with both of them—like we'd known each other for years.
And over the summer, when I got the download for this new venture, I knew I couldn't do it alone.
We chat about:
Why both Anne and Alissa were a hell yes to co-founding a company together
The challenges that we each experienced after having babies and how there is a huge missing link for all women and birthing people
Why the postpartum experience is so screwed up, what we believe it should be like, and how our platform will be part of the solution
And so much more!
Resources:
Loved this episode? Show it some love.
I'd be so grateful if you subscribed on iTunes, Spotify, or your favorite podcast app and left a review. The more reviews we have, the more likely fellow female entrepreneurs are to find these powerful interviews and get the insights they need to move their businesses forward.