my most epic 2017 moments.
December 31, 2017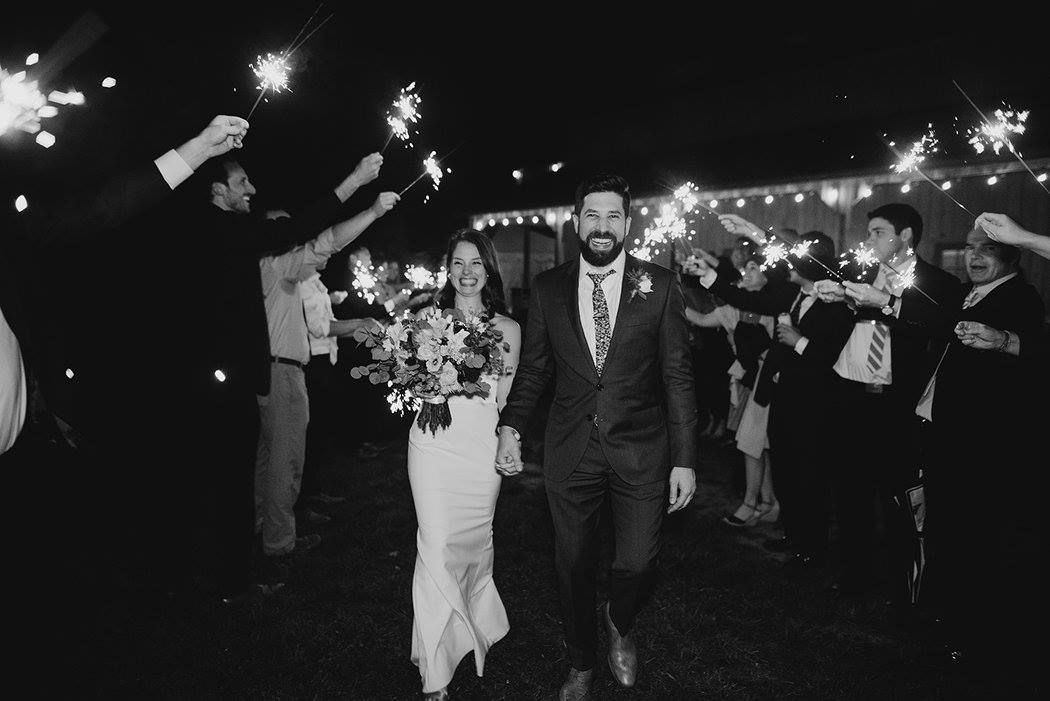 I had big plans to do a fancy 2017 recap and goal setting ceremony for 2018.
I bought stacks of magazines, poster board, and glue sticks by to create a pretty New Year vision board. I grabbed a cute journal from Target that I'd planned to fill with my 2017 highlights by month and 2018 goals by quarter. And I set aside some palo santo and sage to burn in order to clear out the energy of the old to welcome the freshness of the new.
It was all ready to go. But as the holiday season quickly approached and the race to finish my workload took over, I let those idealistic visions fall by the wayside. And ya know what? It didn't feel good.
Wrapping up each year with an assessment of everything I accomplished is incredibly satisfying and fulfilling. I did it last year and loved it. So when I found myself with some free time while in Georgia visiting my husband's family post-Christmas, pre-NYE, I sat my butt down and did the next best thing: typed out everything on my trusty laptop.
No journal, no vision board, no herbs–and it was perfect.
Here are the top 13 magical moments from this past year that completely fill my heart and bring a huge smile to my face.
I got married!! Not gonna lie, I still can't believe I have a husband. Some mornings I wake up and think, "how did this even happen? My life was completely insane just 3 years ago. I ended a relationship and had no idea if or when I'd ever meet someone again." But here I am, married. While planning our wedding certainly had its stressful moments, I literally had the time of my life once the day was finally underway. My favorite part? Reciting my vows and listening to his. I remember standing there thinking, "how did I get so lucky? Where did this handsome human come from? And how is he making such beautiful promises to me?" Best moment of 2017.
I witnessed my dad beat prostate cancer. This is something I never shared publicly, but at the end of 2016, my dad got his cancer diagnosis. Since it was deemed aggressive, he had to have surgery to remove his prostate and luckily found an incredible doctor here in New York City. As you can imagine, this was a scary time for my family. We all banded together and leaned on each other lots as this situation went from nauseating to victorious. They were able to remove all of the cancer and today my dad is cancer free. I am so beyond grateful for how things turned out and know many people are not so lucky. My dad is one of the strongest people I know—he survived the collapse of the World Trade Center on 9/11—and it was so inspiring to watch him handle this horrible moment with grace.
I launched my first online course, Your Wellness Brand. Can I just say that this was literally one of the hardest things I've ever done? Creating an online video course is NO JOKE. Not only had I been sitting with the idea for over a year, but when it came to putting pen to paper and mapping out each module, writing the sales page, getting photos taken, and filming the videos, I'd felt like I was literally giving birth. It was full of challenges and moments of forcing myself to make it happen. And when it launched, I'd set the goal of getting 10 people to enroll and wound up with 7 ladies. Phew! Technically, this was my beta launch and truly a testing ground, but boy I was worried that no one would enroll. In 2018, I've got a real deal strategy and marketing plan, so I'm excited to see what a difference that makes.
I became a member of The Wing. If you've been following along with me for a while, then you know I've struggled to find a workspace that I feel comfortable and inspired in. You also know that I've basically worked alone in my apartment for years and often forget to go outside. Needless to say, it was time for a change this year and I was fortunate enough to get accepted into an amazing co-working space and community for women, The Wing. I found out about this beautiful place via Well+Good at the very beginning of 2017 and applied right away. After months on their waiting list, I finally got an acceptance email over the summer, and literally jumped for joy. I had a feeling this place was going to help me level up my business and so far it's done just that. Thank you, Audrey Gelman and Lauren Kassan for dreaming up such a lovely environment for all of us to create, dream, and connect in.
I grossed $110,000. Not gonna lie, I feel a little weird telling you how much I earned this year. BUT, I always wonder what other entrepreneurs really make and figured it's something you're curious about too. Surpassing six figures was something that felt so far out of reach back in 2014 when I lost my job and started freelancing. Today it feels like it's just the beginning and I'm so excited to see how things shape up in 2018.
I worked with 50 clients, 5 of which are HayHouse authors. Fun fact: I have a partnership with Soul Camp Creative, a branding agency in the personal growth space. Earlier this year, they asked me to be their go-to copywriter for all of their clients and because of them, I've gotten to work with authors like Anita Moorjani and Matt Kahn, amongst others. Having this very special relationship with an agency I admire has brought a nice new revenue stream into play this year and it will continue into 2018 as well.
I reached 10,000 Instagram followers. Earlier this year, I decided I needed to make a serious investment in social media. I found that a lot of clients were finding me there and I wanted to find a way to not only grow that community but connect with them more deeply. So here's what I did: 1) I made posting an art. Instead of taking pictures and writing a short caption, I decided to design my feed through more intentional photo taking. I also wrote longer captions and always thought through the value each post would offer vs. just posting for the sake of posting. 2) I invested in a social media agency. Doing this is truly what skyrocketed my growth since June. This small team does the work of finding my ideal clients (health coaches, entrepreneurs, etc.), following them, and then unfollowing the people who don't follow me back. It may sound contrived, but it works in getting genuine followers!
I recorded 9 podcast interviews for Brand Yourself. The idea to launch a podcast arrived over the summer while chatting with a colleague. In fact, the name Brand Yourself came from that very conversation. To be completely honest, I had no idea what I was doing and no clue where to even start. But being the type of person who figures things out as she goes, I did. I connected with fellow podcast hosts and I hired a podcast launch consultant who made it so much more doable with my already full workload. I'm pretty proud that I not only figured out how to use all of the technology that comes along with podcast recordings, but that I recorded 9 episodes before the end of the year. And the women I interviewed are so freaking amazing that was just a complete honor and joy to spend time with each of them.
I've emailed my subscribers every week since March. From 2015 to March 2017, I emailed my list maybe 10 times. The idea of blogging or coming up with content for blog posts was incredibly overwhelming to me, especially since I'd already been putting in so much energy writing for clients. But when I launched my course, Your Wellness Brand, I realized I hadn't built a relationship—or trust—with anyone on my list. And here they were getting notified of my course and being sold to. Um, no bueno. So from that moment forward, I've emailed them every single week—with the exception of time spent getting married and being away on my honeymoon. Not only that, but my list has doubled since 2016 and I can't wait to see how much it grows this coming year too.
I got over my fear of seeing a breast specialist. Another thing I don't talk about publicly is my health—which by the way is great right now! But a few years ago, I started noticing lumps in my breasts. Terrifying to say the least. As a result, I had to go through the painful experience of a mammogram and a few ultrasounds. Naturally, I've been so fearful of getting diagnosed with cancer; and when my gyno told me to go to breast specialist as a precaution, I basically freaked out and avoided it for months. It was less scary to skip visiting a doctor in a cancer center than to live with the uncertainty every day if I'm being honest. But finally, I realized this was incredibly counterproductive. If I really wanted to put this fear to rest and take care of myself, I had to go. And guess what? I did and she told me that I just have cystic breasts—that it's something many women my age experience and that it can be treated with evening primrose oil. Ever since, these breasts of mine have felt so much better and I'm no longer afraid to go the extra mile for my health.
I traveled abroad twice. I was so fortunate to visit the French Alps around my 34th birthday and visit the South Pacific for our honeymoon. As someone who studied abroad in Australia and backpacked through Europe for a month after college, travel is life to me. I love nothing more than exploring a new place, immersing myself in a new culture, and just enjoying beauty in every shape and form. It was such an honor to share these two experiences with people I love—France with my family and beautiful tropical islands with my love. I've definitely got my sights set on some travel in 2018.
I started volunteer work. If there's one thing that 2017 made me feel, it was powerless. With so much going on in the world—so much pain, hate, conflict, and divisiveness—I often felt overwhelmed with how much needs to change and how I can help change it. I've felt like I needed to become an activist in some way, but I've also been so turned off by the anger and finger-pointing. I want to focus on solutions and being a good human, not focusing on the problem. So after making donations stopped feeling like enough, I decided to volunteer weekly at an organization that's dear to my heart—Dress for Success. This is where I get to give back and offer support to women who are trying to get back into the workforce and build their careers.
I care less about what people think. This has been a toughie for me all of my life. I've always cared too much about what others think of me or my actions and allowed that to influence how I show up in the world. The more visible I become as a business owner, the clearer it's become that I need to get over this! I will never be liked by everyone, nor will I be able to make everyone happy. People will unsubscribe from my email list. People will unfollow me. People will post negative comments. It happens and it doesn't have to mean that I'm a bad person or a terrible business owner.
It's been an epic year on so many levels and in every area of my life. There have been ups and downs, wins and failures. But I could not be more proud or satisfied with every moment. These are the things that have made 2017 unforgettable, and I am forever grateful.
Now I'd love to hear from you. What are you most proud of accomplishing in 2017?